Building instructions for "eagle mum" to go with "eagle dad" from lego set 31004.
Our boys are used to celebrating their birthdays together. Therefore it was really tough for the younger one to accept his brother´s nameday. The main present was lego set 31004 and the toast boy decided to build the bird first (it´s a 3in1 set: eagle, beaver or scorpion). To prevent tears we quickly started to make another eagel. Older brother made an eagle baby and I worked on the mother. I really enjoyed it and am definitely proud of it :-). (I was doomed only to tidy up lego bricks until now!)
I had to get by with the bricks we have at home. The eagle mum is therefore a bit colour-asymetric and has funny claws, but my boys don´t mind it! They started to build a nest for the new family immediately.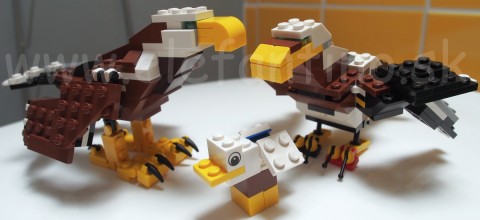 Here there are instructions of one wing only. The other one you will make easily using the same pictures, only mirror reverse: